Zwar bin ich weit davon entfernt, ein Autogrammjäger zu sein, doch über die Jahre haben sich dann doch ein paar angesammelt.
Die meisten haben keinerlei filmischen Bezug, handelt es sich hier um signierte Bücher oder Alben von mir geschätzten Autoren bzw. Musikern (Walter Kempowski, Wolf Haas, Sven Regener, Jello Biafra, The Mars Volta, Josh Homme, Coheed & Cambria, The Gaslight Anthem ...).
Zu manchen kam ich eher zufällig, etwa im Anschluss an Q&A's nach Filmvorführungen bei der Berlinale (Ryoo Seung-wan, Sebastian Schipper + Milan Peschel, Method Man, Josef Hader), nur wenige bedeuten mir wirklich etwas:
Robert Crumb, den ich mal in Hamburg traf, oder Mel Brooks + Carl Reiner, die ich vor 20 Jahren in einem Buchladen in San Francisco erleben durfte.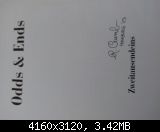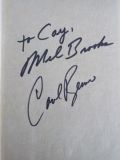 Tim Robbins signierte mir die DVD von
Dead Man Walking
, nachdem er in einem kleinen Club mit seiner Band gespielt hatte.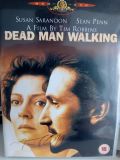 Forumsmäßig interessant sind vermutlich die nachfolgenden
Autogramme
, von denen ich, sofern ich es gebacken bekomme, auch gerne noch Fotos hier reinpetiliere:
Tomas Milian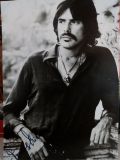 Franco Nero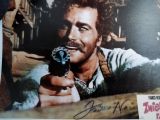 Mario Adorf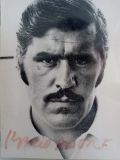 Russ Meyer + Kitten Natividad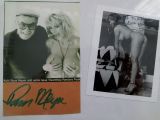 Horst Frank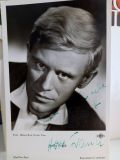 Hader, Haas und Strunk gehen natürlich auch immer: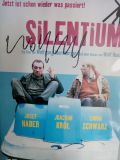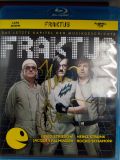 Sehr schön zudem die mit Zeichnung versehene Signatur von Jean-Marc Rochette, der die Graphic Novel gemacht hat, auf der
Snowpiercer
basiert: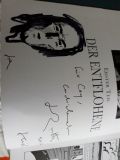 _________________


I have two acting styles: with and without a horse

. (

Robert Mitchum

).